Gesellschaft und Lifestyle / Kultur und Medien
Parlana: Where the world comes together
[Artikel auf Englisch] Having fun learning languages ​​and getting to know people from all over the world – this is what Parlana is all about. Laura was there for you.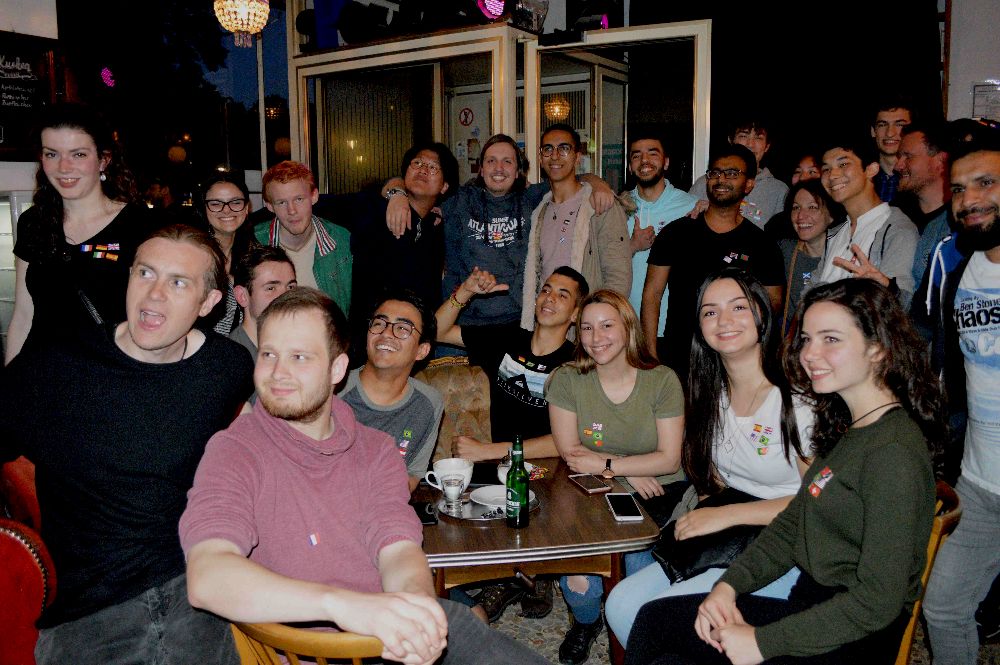 Yuri Martinez
Diesen Artikel gibt es in verschiedenen Sprachen/Here you can read the article in other languages:
– German
– Italian
Having fun learning languages and at the same time meeting interesting people from all over the world – that is what Parlana is all about. At the language exchange meeting, which takes place every two weeks in Lieschen Müller in Münster, people from all nationalities come together. Be it German, Spanish, English, Arabic or even Tibetan – here the languages of the world regularly intermix.
At the event you simply stick on the flags of the languages that you already speak or want to improve and thereby find conversation partners. Simple questions such as "Where do you come from?" or "What do you study?" quickly develop into profound conversation about all manner of topics.
I still remember my first visit to the language meeting very well. As soon as I had entered the room, I was warmly welcomed by the two organisers, Lars and Giulia. What followed was the typical opening question: "Which flags do you need?" Immediately I was helped finding the right ones among the sea of flags. It did not even take two minutes until I was involved in my first conversation. Today I owe Parlana a circle of friends with people from all over the world.
At Parlana's 2 year anniversary, I got the opportunity to talk to the organiser Lars about the event and its origins. A qualified social worker, he has been in charge of the language meeting since May 2017. He himself speaks six different languages: German, Spanish, English, Portuguese, Dutch and Italian. The idea came to him after living in Latin America for four years, and taking part in language exchange events in countries such as Colombia and Bolivia. After returning to Germany, he wanted to implement the concept there as well: "I noticed that there were already several meetings in Münster where one language was the focus", he says, "but an event at which people could communicate in all languages did not exist back then." It did not take long until he had put together his project, with a suitably catchy name deriving from the Italian word "parlare".
The event was a big success from very early on: "The first time I reserved just three tables", says Lars. But even on that first day over 60 people came along. Since then new people have been joining from month to month, and each meeting is a vibrant and chatty occasion. He especially appreciates the diversity of the people: from professors to café workers, and from the world or the surrounding regions of Münster – here you always meet a varied mixture of people. The relaxed mood also makes the language learning so special. Nobody sits here with their grammar book or gets their vocabulary tested. The motto is having fun: "Here, everyone can improve their language in a casual atmosphere", emphasizes Lars.
He is ably supported by Giulia – for example with the production of the flags, organising the New Year's Eve party or the online presence. She also speaks a variety of languages (including Norwegian and Mandarin) and was excited about the concept from the beginning on. She especially values what the project has initiated so far: "Through Parlana new groups and friend circles have formed", she says. "People meet for cooking or go to events together. The great thing is that the people themselves come up with ideas for joint activities."
One of the many visitors to the language meeting is Hassan from Syria. He has also made many new friends: "Parlana gives me the possibility to improve my German and at the same time meet new people. You can talk about all sorts of topics and have fun learning languages."
Meanwhile there is a selection of 150 flags that you can stick on – including a Vatican flag for the Latin language, a sign language flag or the Münsteran "Masematten" flag.
If this sounds like your kind of event, then why not join us at the next Parlana meetup? New faces are always welcome!
"Parlana Münster Language Exchange"
Every first and second Monday in Lieschen Müller, Mauritzstraße 24, Münster (from 8 pm).
Unterstützen
Wenn dir der Beitrag gefallen hat, würden wir uns über eine kleine Spende freuen.
Noch mehr Stories? Folge seitenwaelzer:
Laura Klöppinger
… liebt die englische Sprache und Kultur, weshalb sie sich auch für das Anglistik (und Germanistik) Studium entschieden hat. Wenn sie nicht gerade liest oder Musik macht, diskutiert sie gerne über Doctor Who oder die neusten Indie-Rock Alben.
Tags: barCommunityEventexchangeFunInternationallanguage exchangelanguageslearningMeetingMünsterParlanaSpecOps